LaMothe & Associates Financial Services, Inc.
is excited to announce our new name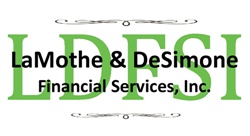 After more than 40 years of providing tax and financial services to the community,
Francis LaMothe is preparing for retirement!
Jennifer DeSimone has been an essential member of the firm for over 25 years and is looking forward to continuing with the same personalized and professional service, same locations for your convenience, same quality licensed tax preparers…
Nothing has changed but the name!
All your financial needs met in one place–
Tax Preparation, Bookkeeping & Payroll Services, Small Business Services
Welcome to LaMothe & DeSimone Financial Services, Inc.!
LaMothe & DeSimone Financial Services, Inc. was first a sole proprietorship which started as a tabletop service of personal tax preparation on January 1st 1973.  The company incorporated January 1st, 2001.
Our mission is to provide our clients with professional, responsive, and quality accounting services.  We possess a wealth of experience in tax preparation, bookkeeping, payroll, and other accounting services to deliver accurate results to our clients.
Please, feel free to browse our website to see the services we offer as well as the many helpful resources we provide.  For further assistance, we encourage you to contact us.